Developed Android and Windows CE modules - OS, file system, synchronization and apps
Plastic Logic
Plastic Logic's (https://www.plasticlogic.com) mission is to lead a revolution in the way people acquire, organize and consume information. They use their proprietary technology leadership in plastic electronics to create a range of innovative products.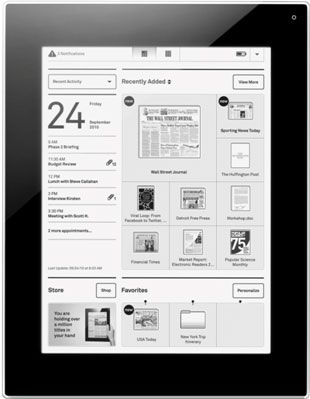 RSL role
RSL worked on both the Windows CE and Android based e-Readers from Plastic Logic. In addition to providing overall architecture and design expertise, developed key modules including: Content acquisition from desktop, smartphones and backend servers; Exchange mail and calendar synchronization; WebDAV access to device data; a virtual file system abstraction; integration with backend content stores, etc.
Product Marketing feedback
"RSL adds value in every phase of the project. During the requirements and definition phase, they don't take initial requests at face value but dig deep to understand the subject. Deliveries are solid and well tested and come with detailed documentation. Bug reports are handled promptly. Raja Software is very experienced with real world challenges caused by fast changing market requirements and customer feedback - and they design for change. It is a pleasure working with them."
Steven Glass
Senior Director, Technical Marketing
Plastic Logic, Inc.
Engineering feedback
"Raja Software has been working with Plastic Logic since mid-2008 on a series of projects related to our eReader products. During that time Raja Software has repeatedly proven their value as a contributor to our product software. They've been very technically knowledgeable and capable on several platforms, especially Windows, Windows CE, Blackberry and Android. They've provided successful solutions at the system level, middleware and app level with special emphasis on a variety of synchronization challenges.

Raja Software has been incredibly dependable with on time delivery of well architected, designed and implemented software. The quality of their deliverables has always been very high. They are often also very involved in the translation of product functional ideas into well architected solutions that solve near term and anticipated future requirements, communicating very effectively with the cross functional product teams."
Monty Boyer
Director, Product Software Engineering
Plastic Logic, Inc.