Brand promotion apps for Windows Mobile, Android and iOS.
Tribal Brands
Tribal Brands helps build innovative mobile and online campaigns to cross-promote some of the most influential creative talent and top-tier brands on the planet. In the last 10 years, they have created carrier grade solutions for 21 carriers that have reached over 1 billion people worldwide.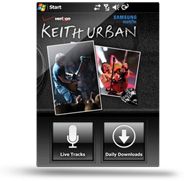 RSL role
RSL developed several mobile applications for Tribal Brands on Windows Mobile, Android and iOS smartphones. These are promotional tie-ins and include apps that ship with the smartphone at launch.
Engineering feedback
"We used Raja Software on a few projects and they did a great job delivering high quality applications on time. With minimal oversight, they were able to work with multiple stake holders: Carrier marketing, music industry representatives, Product Marketing, UI designers, engineers and QA. They were flexible with last minute design changes, suggested cost saving alternatives, and contributed to the overall product experience. Since these applications were in-built on the phone as part of the ROM, the quality bar was very high - and Raja Software came through with flying colors.

We were particularly impressed by their technical expertise and the turn around time for any questions/issues. When a different project had some network issues on a different carrier, Raja pitched in and helped us out though they were not involved in that project at all. Raja and his team seemed to be always one-step ahead, anticipating issues and raising them to product management, so they could be resolved upfront instead of waiting for QA to report them. I would recommend them highly."
Shawn Adamek
President
Tribal Brands